Old content
This post is over 2 years old. Some of the content might be out of date. If your after something more up date, check out our latest posts. If you want to find out more about the content on this page, contact us.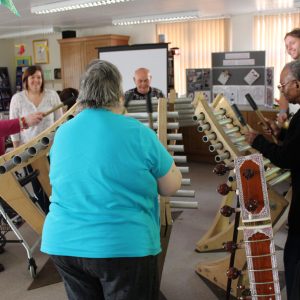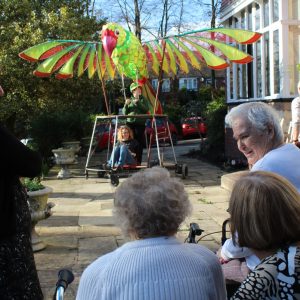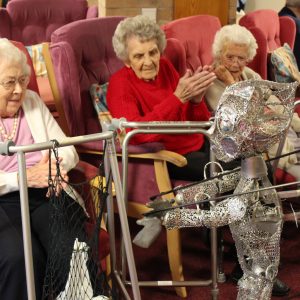 In the first week of November our giant carnival puppet parrot made three flying visits to care homes and care centres in Nottingham. The puppet, nicknamed Pandora, was inspired and partly created by residents at Radford Care Group, Nottinghamshire Hospice and The Abbeyfield Society's Millbeck House. For many of the older people the visits were their first chance to meet their incredible creation, which featured in our troupe for the 2014 Nottingham Carnival parade.
We showed two short film during the visits, letting residents see their work delighting crowds gathered for the carnival parade. Musician Emma Williams played City Arts' giant chimes, accompanied by Lance Hume on sitar, bringing some of the flavor and atmosphere of carnival into each of the homes. After the performance everyone got a chance to have a go at playing the chimes themselves. At Millbeck House kids from the local Pinewood School sang for residents, parents, visitors and staff.
"We were delighted to see the bird back at the Hospice in all his glory, it was all excellent! It really bought together the Hospice's ambition to create new memories, the brilliance of the artists and the power of creative arts to connect the unconnected. Thank you to all the Imagine team"

Rowena Naylor-Morrell, CEO of Nottinghamshire Hospice
The bird was built this summer by Tony Mason, a renowned puppet maker who created the two giant lions that led the Team GB 2012 Olympic winner's parade, with help from artist Jess Kemp and nearly 100 older people. The project is part of the Imagine Programme for Older People, funded by Arts Council England and The Baring Foundation.
"Making the giant bird to be paraded through the city centre during the Nottingham Carnival has been brought great interest to Millbeck House Care Home – we all enjoyed our small part in the shaping and painting of the feathers – thank you for coming."

Betty Speakman