Old content
This post is over 2 years old. Some of the content might be out of date. If your after something more up date, check out our latest posts. If you want to find out more about the content on this page, contact us.
A summer of outrage, shock and grief at the killing of George Floyd led to mass global protests. The world re-focused on the Black Lives Matter movement that has, and will always be more, than a moment, media attention or a hash tag. Black Lives Matter was actually was established seven years ago in the US with activists and community organisers forming groups (known as Chapters) in cities across the USA, Canada and Europe, including Nottingham.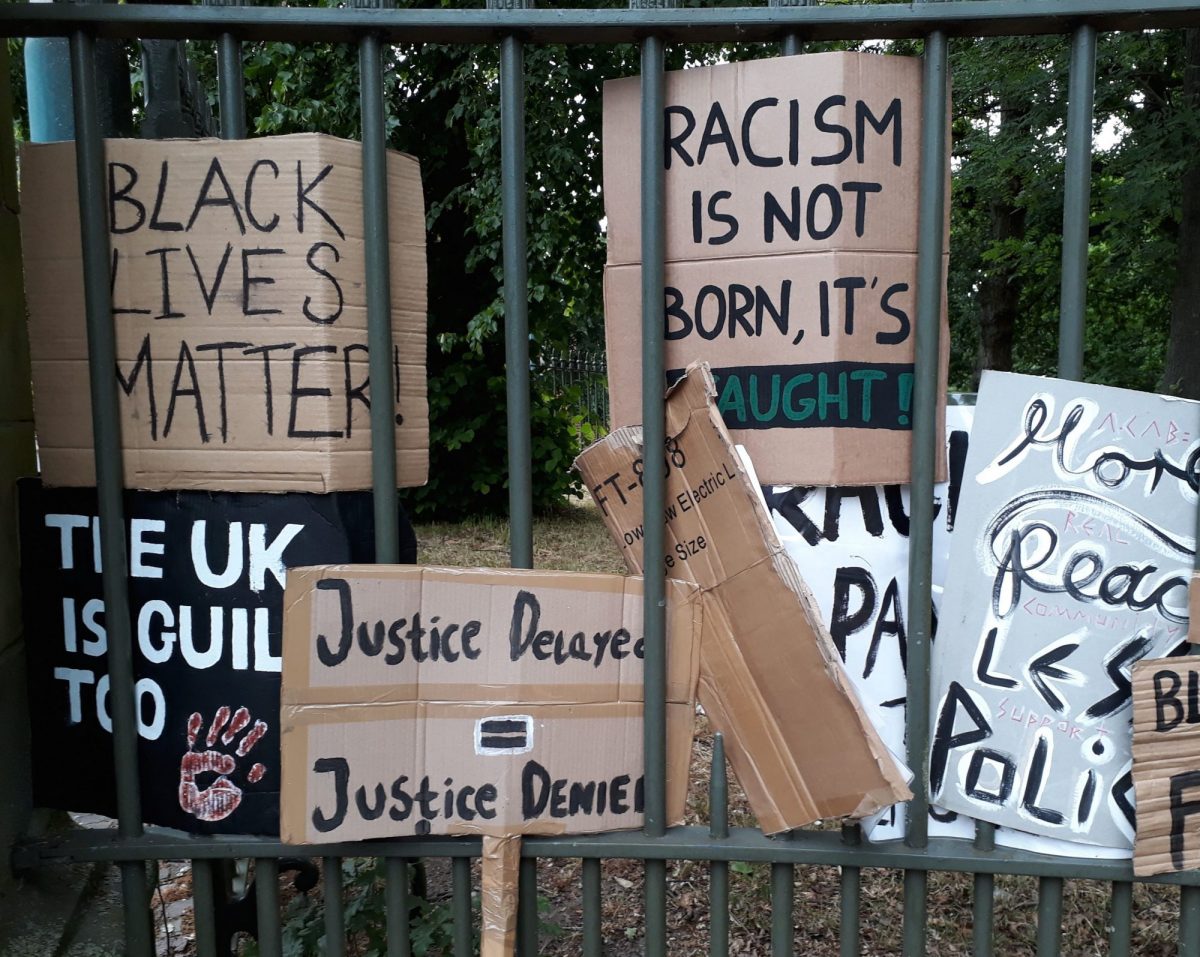 Thousands of statements were released online by the visual arts and every sector standing in in solidarity with BLM and a commitment to address institutional racism from within. We read, watched and waited.
City Arts responded by releasing a statement and a list of immediate and long-term actions to deliver with an allocated budget from Arts Council England. This included bringing together a steering group of black creatives, artists, producers, and artists of colour, to discuss and develop a programme of artist support.
I was approached to chair the steering groups conversations, and to evaluate the process and outcomes of these meetings. Our steering group were Raisa Mcclarey Francis, Jeremy Prince, Honey Williams, Saziso Phiri and Jagdish Patel, joined by Suzannah Bedford and Alison Denholm from City Arts.
Three two-hour conversations were held using Zoom during September & October 2020. Below is a summary of what was discussed.
Conversation 1: The Uncomfortable Truth
As Chair, I really wanted to ask about people's responses to the summer's protests, institutional racism and the art worlds response. As you can imagine this was a highly sensitive, profoundly moving conversation that will definitely stay with me for some time. Here are the key points:
Cultural organisations posting anti-racism statements and the black square campaign were met with some cynicism by the group. These acts didn't necessarily lead to any action.
In some cases, this actually backfired – with a torrent of accusations, counter statements accusing cultural organisations of hypocrisy.
COVID-19 itself has highlighted inequalities within our society in terms of health, housing and wellbeing with a high death rate amongst those from Black African and Asian backgrounds.
Class and race intersected in the shape of Brexit – one of the most divisive points in British politics.
The group discussed their positive and negative experiences of arts education and working in the arts or creative industries. They spoke about who had inspired and supported them through their careers.
Conversations 2 & 3
We asked: "How can City Arts support black artists now and in the future? What would this look like?"
The first session created a safe space for everyone to be honest and open. The next step was to focus the next two discussions on what City Arts can actively do to support black artist and artists of colour now and in the future.
We had some amazing suggestions including:
Artists' residencies in the ground floor space at City Arts so the public can see what an artist does?
Public discussions – recording podcasts about the areas we have talked about. For example: "What does an anti-racist arts organisation look like? Who are City Arts?"
Making use of digital technology to live stream creative workshops to the public.
Creating a media space and channels.
A community project, Black Lives in Nottingham, comprising an illustrated story or sound recordings that could be listened to from speakers outside City Arts' window.
Moving forward
To make these ideas a reality, City Arts is using a portion of money from their Arts Council England NPO budget. They have invited a curator who was part of the steering group discussions to deliver the programme. We are pleased to announce that Saziso Phiri will be City Arts' first Curator in Residence.
She will develop the ideas from the group and deliver a programme of work for black artists, artists of colour and Nottingham's diverse communities. The programme will bring new audiences, organisations and partnerships to City Arts through artist's residencies, exhibitions and further discussions with the Black Community.
Another idea included a series of discussions about racism in all its forms called "The Elephant in the Room". This would be a podcast with two artists having a conversation that is lively and accessible to anyone. After recording, the podcast could be shared widely for anyone to listen to. Other great topics included:
What should an anti-racist arts organisation look like?
"Karen" has been cancelled – what does the term mean for those who don't know?
Who the hell do City Arts think they are?
I hope the podcasts will encourage listeners to have their own conversations and reflect on their own experiences.
This is a great start and I look forward to seeing how the programme develops and creates change within the organisation. As mentioned by Alison Denholm at City Arts, "These discussions alone are not enough if we do not act on them".
Bo Olawoye
Critical Friend/Evaluator
https://www.bosedaolawoye.com/
Header image by Richard Chung, 2020