Old content
This post is over 2 years old. Some of the content might be out of date. If your after something more up date, check out our latest posts. If you want to find out more about the content on this page, contact us.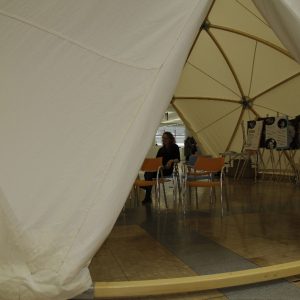 This gallery contains a number of images of the City Arts Dome in the Market Square for Light Night 2013 and World Event Young Artists 2012, as well as photos of the Dome inside Nottingham City Council Headquarters at Loxley House.
The Dome is a unique and inspiring venue created exclusively for City Arts by the Dome Company in Suffolk, the UK's leading manufacturer of geodesic structures.  It was commissioned with the support of Arts Council England.   It is part of a programme to take more art to more communities encouraging creative participation and expression and transforming lives.
We worked with artists and staff at the University of Nottingham Mixed Reality Lab, to research the most practical and viable model for us and decided on a geodesic dome structure that could be adapted to multi-purpose uses in a variety of settings.
We took delivery of The Dome just in time to be the centrepiece of the World Event Young Artists 2012 festival's programme for the Market Square, where it hosted a range of WEYA events including talks, music, poetry and dance. A launch event was held on 12th September 2012.