Old content
This post is over 2 years old. Some of the content might be out of date. If your after something more up date, check out our latest posts. If you want to find out more about the content on this page, contact us.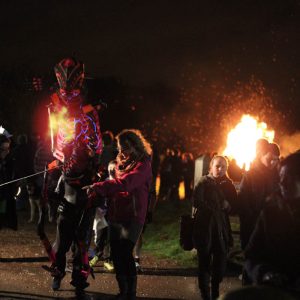 Here are a few photos from 'Illuminated Newstead', part of the Future Newstead Bonfire Night at Glenalmond Pocket Park. In the run up to the event City Arts worked with local young people to produce a number of elements that delighted crowds on Saturday the 8th of November.
Over 10 weeks young people from our Express Yourself programme worked with Rebecca Smith from Urban Projections, learning how make dazzling digital projections which where projected live at the event using Urban Projection's specially adapted bicycle.
Artists Stephen Jon and Ruth Dawes spent time at a local primary school, teaching the kids how to make and decorate brightly colored carnival masks. The children wore their masks for the event's lantern parade, accompanied by one of our giant carnival puppets.
Through the Express Yourself programme, City Arts runs creative workshops that help build the confidence and raise the self-esteem of young people from the Gedling area of Nottinghamshire. The current group have really enjoyed working with Rebecca, a talented multimedia artist, who has produced work for the BBC, Jimmy Choo and Coca-Cola, and who has show her work at venues including The Saatchi Gallery and Royal Festival Hall.