Old content
This post is over 2 years old. Some of the content might be out of date. If your after something more up date, check out our latest posts. If you want to find out more about the content on this page, contact us.
City Arts is asking for your help to raise money for our 2013 carnival troupe who will be taking part in the Nottingham Caribbean Carnival on the
18th August 2013
.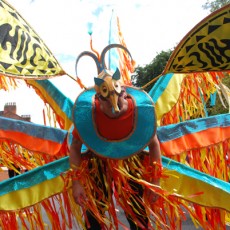 City Arts has been putting a troupe on the road with Nottingham Carnival since 2007. Since then we have worked with hundreds of revellers, young and old, creating big & bright costumes, pulling off some fantastic choreography and bringing great live music to the streets. We use carnival to bring loads of projects and artists together, to showcase their work, and have as much fun as possible.  This year a group of young people from the Gedling area of Nottingham will be at the centre of the City Arts troupe.
We will be launching our crowd funding campaign on the 16th May.  The money you donate will help us to fund a number of different strands of work that will make this years carnival troupe City Arts' biggest, brightest and most exciting to date.  These include:

A collaboration with The Scraggies, a Nottingham Based Street Theatre group. They will work with the young people involved in Carnival, as well as bringing their street theatre anarchy to the road.
Commissioning local artist Nathan Bainbridge to create a fantastic giant boat that will be the centre point of our procession. Nathan will be working with young people to build the boat.
We are aiming to raise £2000 through the crowd funding campaign.  Please help us achieve our goal by donating when the campaign launches on May 16th.
To say thanks to those of you who support us, we will be offering gifts to everyone who donates.  You can find out more about these on our website.
Gifts for donations
£5 – We will e-mail you our best Carnival Photo to say thank-you, and credit you in our photo albums
£10 – We will create a photo album of our carnival day, and we will e-mail this to you. We will also credit you in the album to say thank-you
£25 – We will post you a copy of the carnival photo album, with a thank-you letter, and credit you in the album
£50 – As well as a copy of the carnival photo album, you will receive an invitation to the City Arts Mas Camp Weekend to help create the carnival king costume with our creative team (3rd and 4th August 11-5pm)
£100 – As well as the carnival photo album, you will be invited to join us at a flag making workshop. If you would like to join in with carnival and carry your flag as part of the City Arts Troupe you will be very welcome (7th and 14th August 4-7pm)
£200 – You will receive an A3 print of a carnival photo of your choice, signed by the creative team to say thanks. You will receive an invitation to the City Arts Mas Camp Weekend and the flag making workshops. You will also be welcome to come on the road with us
Follow our crowd-funding campaign's progress on our website, on Facebook and on Twitter.  We will be tweeting using the hashtag #cityartstroupe