Old content
This post is over 2 years old. Some of the content might be out of date. If your after something more up date, check out our latest posts. If you want to find out more about the content on this page, contact us.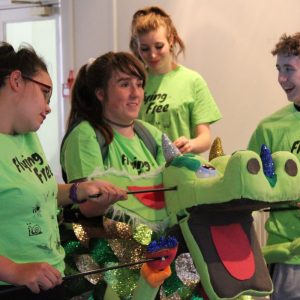 At celebratory event on the 13th May young people introduced friends and family to Fred, an incredible dragon puppet that they created as part of our Express Yourself programme. City Arts' Express Yourself programme supports young people to gain creative skills and qualifications whilst building their confidence.
In the preceding weeks, the Express Yourself group had worked with costume and puppet maker Vic Potterton from Top Drawer Costumes. Vic taught the group a range different techniques used in the professional production of puppets. With their newly-learned skills they designed and built Fred the Dragon, drawing inspiration from City Arts 'Flying Free' theme for Nottingham Carnival.
At the event pictured in this gallery, the young artists ran workshops for their family members, teaching them how to make shadow puppets. Parents were delighted with their children's work and the effect the programme had on them:
"This has been one of the best activities Oliver has attended. It built his confidence. He has enjoyed it so very very much, from start to finish. Thank you for your hard work."

"This project has been amazing for Ella. It has given her confidence and hope. Thank you to all involved for helping find my Ella and bringing her back."

"I'm so impressed with all the work and how well the young people shared their puppet making skills. Well done everyone."
The Express Yourself group will process with Fred at Arnold Carnival on Saturday 20th June, and as part of City Arts' troupe for Nottingham Carnival on the 23th August. He is currently on display at Gedling Borough Council's Civic Centre.